Although I've been doing a few things since school has been out, I feel that I have not done my duty to make the best of each day as a true summer vacation. I mean, I haven't even left to snoop around Hollywood in more than a month. But now, I'm back in business.
Sure my trip this past weekend to the rural areas up in Northern California with the fam bam was allright, but now it's time to get down to the down to the real dirt here in town.
This Sunday Bat For Lashes will be playing at the Lucky Brand Jeans store in the 3rd Street Promenade in Santa Monica for free. Just make sure to RSVP
online
. On top of that, she is playing another show here in LA after her sold out show at El Rey on August 31st at The Music Box @ Fonda. You can read more about the pre-sale and everything on her
blog
.
More good news, Friendly Fires is coming back to LA on tour, and they'll be playing at the El Rey Theater August 24th, a few days before Bat For Lashes comes down here.
Sounds like a good treat. (=
And for the more recent stuff that's coming up, this should be pretty awesome.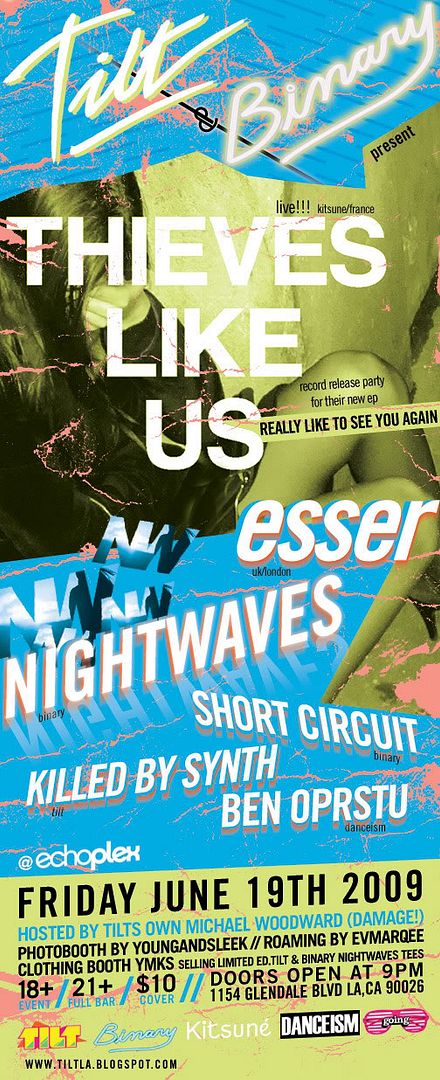 Ahh....I missed listening to Thieves Like Us.
More exciting news, my sister and I are opening our own shop named
los anjealous
on Etsy this coming week for feather headbands, feather earrings, and customized bracelets (my sister's specialty). Few more days, and we're really up for business.